Destination Setesdal has been involved in several film projects here in Norway since 2002, mainly in the important role as Fixer/consultant. With a permanent base in southern Norway this gives us a clear advantage over other UK fixer services regarding paving the way for film crews, pre recce trips, and Administrative/practical support work prior to filming.
Films:
·         BBC TV s "The Real Heroes of Telemark" with Ray Mears as presenter Martin Pailthorpe Director/producer.
·         Perilous Landings Independent film company Belgium.
·         NOVA/PBS Network Hitler's Sunken Secret. Duncan Copp Director.
·         BBC TV s "Are you Tough Enough".
BBC TV
"The Real Heroes of Telemark"
2003
This very successful film documentary was produced on location in Norway and Scotland by the BBC in 2003. The documentary has been seen by over 100 million people in over a 100 countries worldwide. Initiated by Ray Mears of BBC extreme survival fame after he visited Rjukan in Telemark 2 years earlier. The visit made such an impression he decided to persuade the BBC to make a documentary about this story which he felt was untold, even though 2 previous films had already been made about this sabotage action.  He wanted to tell the true story of how a small group of Norwegian saboteurs survived the most appalling conditions in the winter of 1942/43 to prepare the ground for what turned out to be the most successful and daring act of sabotage during WW2. Their aim was to destroy Nazi Germanys stocks of a substance called Heavy water at Vemork Hydro Electric factory in Rjukan Telemark Norway. This action was later known as the "Heroes of Telemark". The BBC took contact with us here in Norway June 2002; our job was to assist the assistant director Danny Cane (Based in Bristol) in situ on all aspects of the filming, planning and preparation before filming actually started in January 2003. It took approx 6 months of painstaking work to recce, and prepare the ground ahead for the film presenter Ray and the BBC TV film crews so that this documentary could hold its filming schedule.  The Norwegian army played an important part in the documentaries success giving logistic support and providing 2 Special forces members as actors.
Do you want to participate on this mission? Go to Courses/expeditions page "The Real Heroes of Telemark"
Short trailer from the documentary "The Real Heroes of Telemark"

Destination Setesdal AS in award winning film documentary at the Chicago film Festival: "Hitler's Sunken Secret"
http://www.pbs.org/wgbh/nova/hydro/
"Award winning film (GOLD PLAQUE) at the Chicago film festival"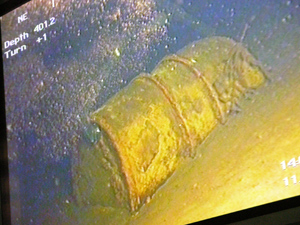 "Heavy water" (Deuterium oxide) lying on the bottom of Tinnsjø lake in Telemark Norway
This highly successful television production involved Hitler's attempt to produce an A Bomb during the second world war. DOX productions Ltd from London has produced an outstanding documentary with our help for the PBS network in the USA. This documentary can be purchased on DVD and seen in Europe, the UK, andAmerica on the "NATIONAL GEOGRAPHIC CHANNEL"
Destination Setesdal Ltd has been involved in several major TV productions here in Norway since 2002. Our main job is to prepare the groundwork for filming which could take in many different factors. Applications to local authorities, translation, recce of filming areas, liaison with land owners, hiring of qualified guides etc,  booking of accommodation, interviews, cameo scenes and lastly typical "Fixer" tasks. We understand what film production companies want and make things happen and help realise film projects; no matter how large or small.
***
__________________________________________________________________________
**
Local knowledge and translating the many regional/national laws/regulations that film companies must abide by are paramount to the project' success. This unwritten rule was never more highlighted by our first film project  BBC TV s "The Real Heroes of Telemark". This documentary was a resounding success and a confirmation that good planning and preparation is a good recipe for realizing a good idea without too many dramas! For a brief description of our importance to this project read the Acknowledgements page in the Ray Mears book; "The Real Heroes of Telemark".
Head Hunted for our intimate knowledge of the most famous Sabotage Operation during WW2 and our success in Rays film The Real Heroes of Telemark this gave us the opportunity to work with one of Britain's most successful film directors and his award winning camera team in the film " Hitler's Sunken Secret" . Our role in this film documentary was research, conducting interviews, fixer services. The film won the best film documentary in the world award at the Chicago film festival in 2006/7.
Are you an established film company seeking to realize a film project in Norway (No matter how small/large) give us a ring or send an email; we may be able to help; if not, then we obtain people who can!
***
Brian Desmond, Destination Setesdal Ltd