The Viking Trail Expedition
June-September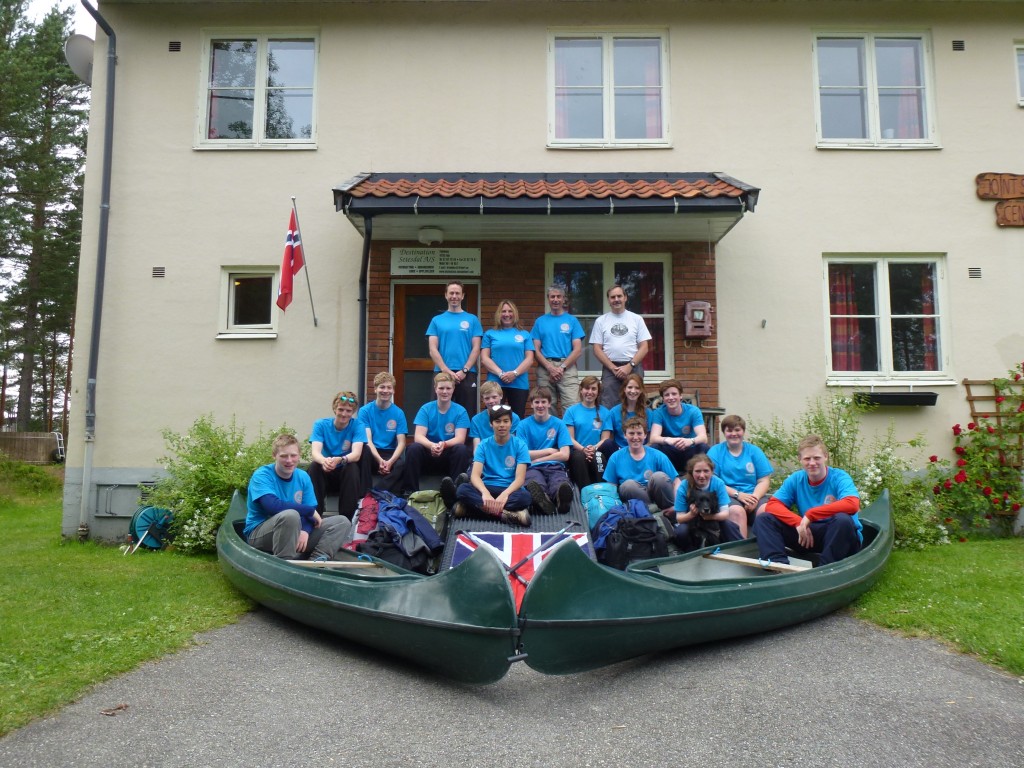 (Loretto School Viking Trail expedition 2012)
A well tried expedition package called "The Viking Trail" will be offered to both military units and civilian groups. This expedition has been tried and tested since 1977 and organised by us since 2004.
All our Open Canoes have been replaced by new expedition Canoes with good stability and increased storage space. The VT has 2 phases, a mountain trekking phase, and a paddling phase. It has been popular the last few years to remove the trekking phase from the itinerary and just  complete the paddling phase extending it by 1, or even 2 nights.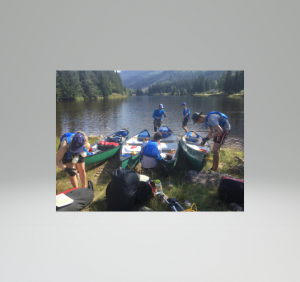 VIKING TRAIL ITINERARY

Day one
Arrival in Norway and meeting at Kristiansand Airport (Lunchtime arrival strongly recommended) The group will be collected by minibus/bus and transported to our campsite acc situated next to an inland fjord near the regional centre of Evje. Accommodation will be 8/10 man Lavvos with good quality sleeping mats. We will receive a full briefing from our leaders before making final kit preparations and tucking into our evening meal. Time will be set aside to buy food/other from the local supermarkets during the evening.Choice of overnight location; Hornnes camping/Odden Camping Evje; Shower and toilet facilities are available. (Plus fishing opportunities)Meals provided: Dinner
Day two
After breakfast, we'll transfer to the start of the trail further north by minibus, a drive of 1.5 hours to the Setesdal Mountains. We'll spend the day/afternoon walking up to heights of over 3,000 ft along marked trails.  At the end of the day we'll set up camp above the tree-line next to a water source. (Small lake/stream)   Meals provided: Breakfast Day three
We continue the expedition by heading due east towards our main goal; the river Otra and the Byglandsfjord. This second day trekking will give our guides the chance to explain about the Flora/Fauna of the area and gain knowledge of the Norwegian law  of 'Allemannsretten' which offers walkers and leisure seekers public right of access to the countryside. The act permits people to roam freely on foot and skis, picnic, camp, swim, fish for saltwater fish and pick berries which grow in abundance in Norway. The feeling of freedom will be most liberating especially since it also helps to protect what's beautiful and unique about Norwegian open countryside.Overnight at the last trekking location next to a lake or stream.
Day four
The group continues onto an RV location (Approx lunchtime) where we will be waiting with Open Canadian Canoes and everything the group will need for a 3 day Open Canoe expedition in the Setesdal Valley. The changeover from trekking to paddling is simple and quick. After a brief rest for lunch and a cold drink/snack the groups go through important safety drills before heading south towards the first overnight stop at a local campsite. (3 hours paddling-arrival time approx 1730 hrs). Comfortable acc, hot showers and an evening meal plus breakfast will be supplied. This overnight area is famous for one of the most spectacular waterfalls in Southern Norway. An evening meal will be provided; a local supermarket situated just 600 away will give an opportunity to buy snacks etc. Meals provided: D Day five
Today will be a marvelous opportunity to perfect our paddling techniques and to enjoy the simple pleasure of being outdoors in stunning nature. The river Otra eventually widens and gives way to the 40 kms long Byglandsfjord – a moment that will bring sheer enjoyment as we paddle on the calm waters of this inland fjord surrounded by steep mountains and forests.During the evening expedition members will have the chance to practice bush craft skills and prepare their dinner on the open fire before settling down for the night under tarps.
Day six
We continue our journey south along the Byglandsfjord making sail, fishing and making use of the small islands to swim or just relax. The last night on expedition will see us sleeping on an Island or beach under improvised shelters or tarps.
Day seven
After breakfast the group paddle the short distance towards their RV at the foot of the Byglandsfjord where we will be waiting with transport to take the group back to their accommodation before lunch. After a quick debrief, kit checked and handed in the group can spend the afternoon relaxing at their acc venue or chose from a variety of cultural recreational activities that are on offer in the local area. This last evening will see us providing a BBQ on the sandy beach next our accommodation.  Meals provided: BBQAll meals on expedition, or otherwise stated are to be provided by groups themselves.
Day eight:
Return UK. Breakfast  provided. Contact destination Setesdal direct for further information;
0047 901 40 857 or 0047 379 31 303 / briandes@frisurf.no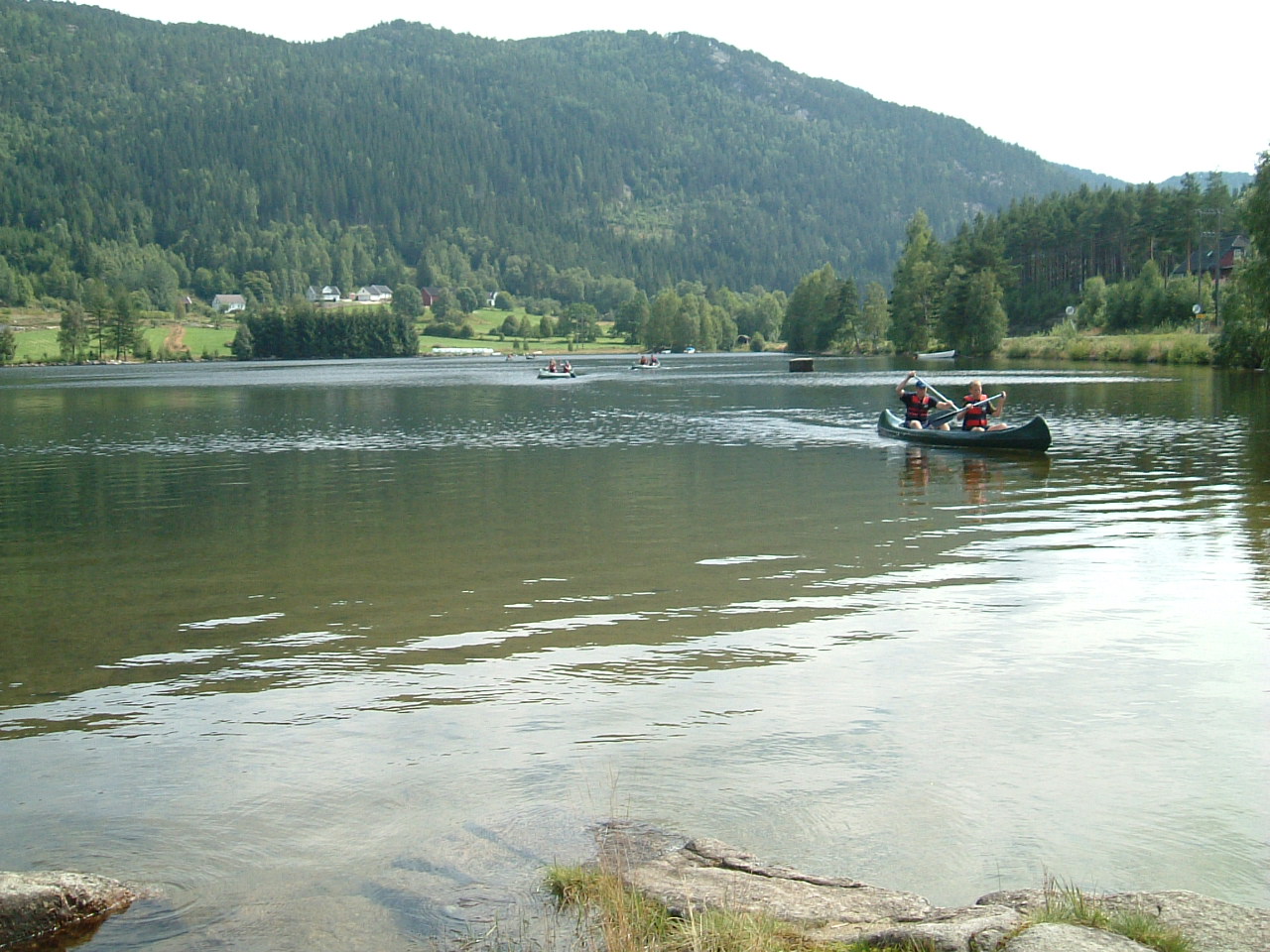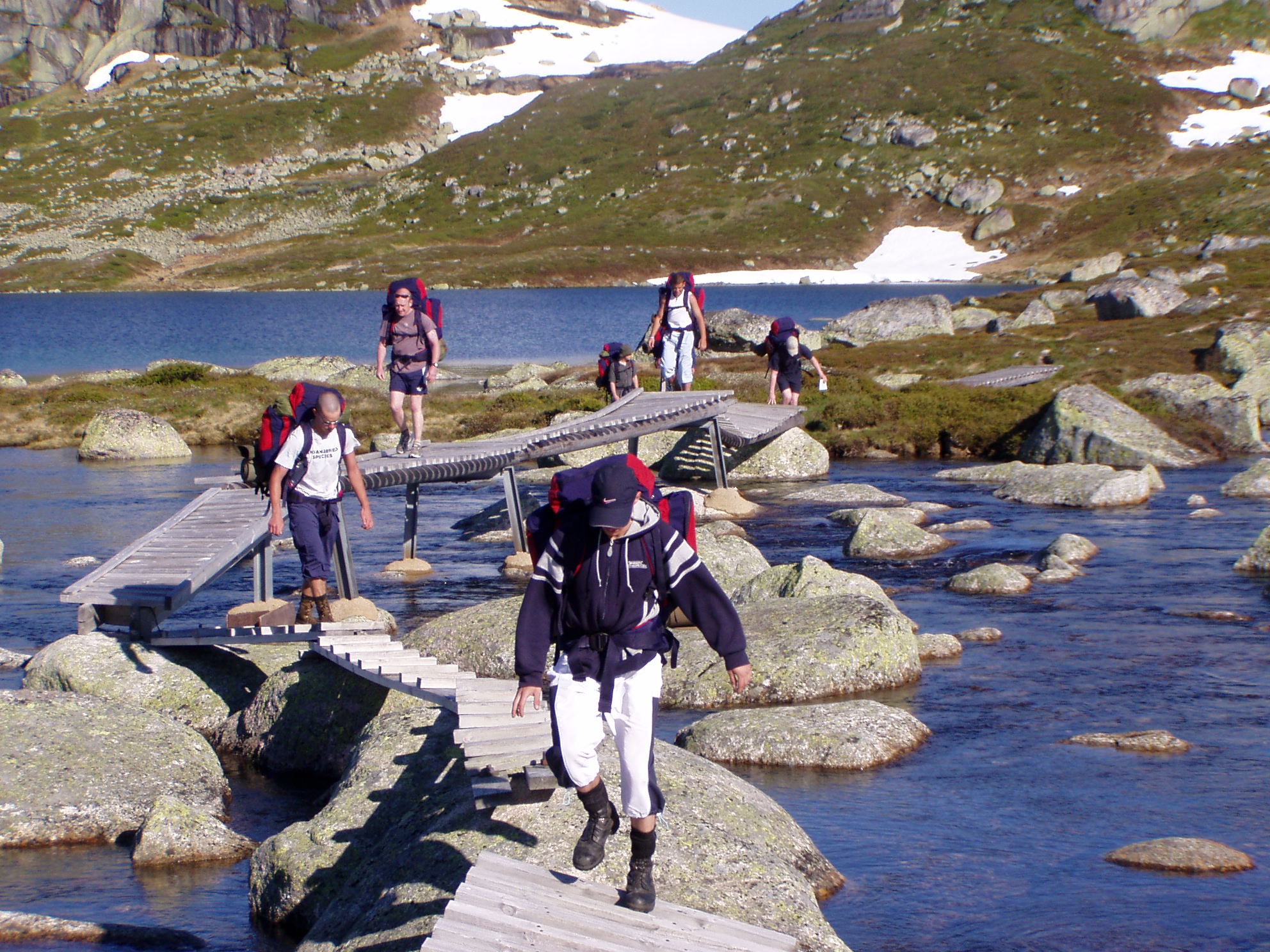 The expedition has 4 phases:
1. Phase; Arrival at JSTC Evjemoen Evje;  briefing/equipment issue (if necessary) with one overnight stay for planning and preparation.
2. Phase; Next morning the group will be transported 100 kms further north along the Setesdal valley, and into the start point situated on the edge of the western part of the Setesdal mountain range. Transport will be by mini-bus. The ability, and wishes of the group dictate the route/distance taken; however, the standard length of this expedition is 4 days and 3 nights. Tents, or log cabins can be used, and own food should be taken. Food can be supplied to those groups that want to avoid taking their own.
The terrain is spectacular, and challenging, perfectly suited to all types of groups; Scout/DOE award groups wishing a perfect expedition area for their certificates or unit level military expeditions wanting a real Viking Challenge in a safe but challenging enviroment.
An instructor/guide can be provided for this phase if necessary. On the last day of the trekking phase, the group meet at a pre-arranged destination where we will be waiting with our resident Open canadian canoeing instructor/coach, and all the equipment necessary for an expedition lasting several days. A short periode of instruction, plus safety procedures will be given before setting off for a relaxing/pleasant easy paddle down the river Otra  to a local campsite. After a hot shower, and meal provided in the local cafèteria the group can spend a relaxing evening preparing for the next phase of the expedition.
3. Phase; This is a 60 kilometer paddle down the river Otra, and spectacular inland fjord Byglandsfjord. Groups have a choice of either wilderness camping along the way, (beaches/Islands) or utilising the local campsite and log cabins dotted along the main fjord. A period of 3 nights is spent on this phase which, ends just 10 kilomters from the centre. The group is then collected and taken back to Evjemoen where comfortable accommodation, hot showers/fresh bedlinen will be provided for the last phase.
4. Phase; Short recovery/recreation periode (normaly 2 nights) where the group can experience a comfortable stay with full-board at the centre. A number of activities will be available ranging from WW rafting, Go carting mountainbiking, fishing, watersports, cultural activities or just relaxing in beautiful unspoilt surroundings.
The expedition is a total of 9 nights; 1 night in situ Evjemoen-3 nights in the Setesdal mountains-1 night at changover location- (campsite with all facilities) 2 nights open Canadian downriver/fjord expedition followed by 2 nights in situ at Evjemoen. This standard concept can be altered according to the wishes of the group.