THE HEROES OF TELEMARK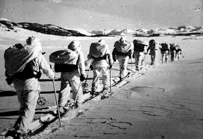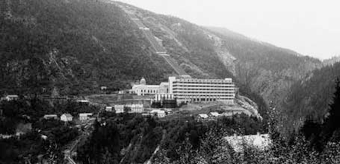 Vemork Rjukan Hydro Electric Power plant (1911-1977)
General
The Heroes of Telemark is a world famous sabotage operation that took part in Nazi occupied Norway during WW2. There were numerous operations (6 altogether) connected to this sabotage act carried out by the allies and Norwegian resistance members between the spring of 1942 and the winter of 1944. The aim of these operations was to sabotage Nazi Germanys attempt at producing a substance called Deuterium Oxide, (commonly known as Heavy water) for the German nuclear energy program. Acting as a liquid moderator in nuclear fission Heavy water was an important component which could be used to produce nuclear weapons.  Before the war, Norsk Hydro built the first commercial plant capable of producing heavy water as a byproduct of fertilizer production. It had a capacity of 12 tons per year. The allies decided to disrupt and destroy the production of this substance in order to inhibit the Nazi development of nuclear weapons and thereby give the allies more time to produce their own nuclear capability.
Historical background
Prior to the German invasion of Norway on 9 April 1940, French military intelligence removed 185 kg of heavy water from the plant in Vemork in then-neutral Norway to France. The plant's managing director, Aubert, agreed to loan the heavy water to France for the duration of the war. In a clandestine operation the French transported it secretly to Oslo, from there to Perth Scotland, and eventually to France. The plant remained capable of producing heavy water which, the Germans exploited to the full when their military forces reached Rjukan just days after the occupation of Norway took place on the 9. April 1940. They soon had the plant up and running producing large quantities of Heavy water.
The Allies, obviously concerned that the German occupation forces would use the facility to produce more heavy water for their own nuclear weapons program carried out a sequence of sabotage actions and a large bombing raid. These actions/operations ensured considerable damage to the plant and seriously disrupt and slow down the production of Heavy water.
There were 6 operations altogether:
1.Einar Skinnarland: The Special Operations Executive placed a Norwegian informant in the Hydro Electric factory at Vemork.
**
2. Operation Grouse: The British "Special Operations Executive" (SOE) in London successfully placed four Norwegian members of Company Linge on the Hardanger Plateau. Their mission was to reconnoiter and prepare a Landing Zone (LZ) for a dual service attack on the plant near Rjukan.
Jens A. Paulsson, Claus Helberg,  Knut Haugland, Arne Kjelstrup
**
3. Op Freshman: After an epic 15 day journey to their goal the 4 members of Grouse eventually prepared a suitable LZ for the British Special forces (Para Engineers) for Op Freshman. This operation, was mounted by British paratroopers using the first ever glider bourn raid during WW2; their mission was to rendezvous with the Norwegians of Operation Grouse and proceed to Vemork and destroy the stocks of Heavy water at the factory.  This attempt ended in disaster when the gliders crashed due to icing, as did one of the tugs, a Halifax bomber. The other Halifax returned to base, but all the other participants were killed in the crashes or were captured, interrogated, and eventually executed by the Gestapo.
4. Operation Gunnerside: In February 1943, a team of SOE-trained Norwegian commandos succeeded in destroying the production facility with a second attempt, this was called Operation Gunnerside and it is this particular operation that is synonymous with the description; The Heroes of Telemark. This operation comprised of 6 new Norwegian resistance members from Company Linge and the original 4 members of Grouse. Operation Gunnerside was later evaluated by SOE as the most successful act of sabotage during World War II.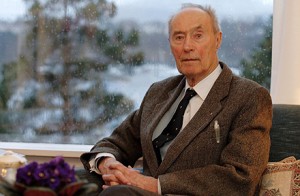 **
**
**
**
**
**
**
**
Joachim Rønneberg Officer commanding Operation Gunnerside
5. American bombing raid:
Within 6 months Heavy water production was in full swing after the successful Gunnerside operation. The Americans saw the increased production of Heavy Water as a threat to their own Manhattan nuclear project and of the ability of the British and the other European allies to put a stop to this. They then, independently (Without consulting their allies) carried out a massive bombing raid (176 B2 bomber aircraft) in November 1943. This raid badly damaged the factory, killing many innocent civilians in the process but leaving the stocks of Heavy water untouched.
6. Sinking of the ferry Hydro: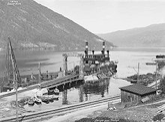 After the major setback of losing production for 6 months through Op Gunnerside, and the damage to the Hydro electric power plant by the bombing, the Germans elected to cease production and remove the remaining stocks of heavy water to Germany. Norwegian resistance forces led by Knut Haukelid sank the ferry Hydro carry stocks of Heavy water on Lake Tinn in February 1944. However, not all the barrels of Heavy water were lost; some floated to the surface, and within 2 weeks 2 more shipments were sent to Germany plus remaining stocks of Heavy water not earlier on the Hydro's manifest.  Why these 2 shipments were not stopped, or sabotaged remains a mystery!
**
THE HEROES OF TELEMARK EXPEDITION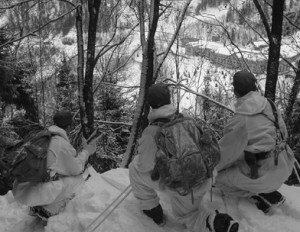 Joint Services Training Centre Evjemoen Norway decided to produce an expedition (reenactment) of this Operation in cooperation with Ray Mears in March 2003. The expedition has 3 phases; 1. A training phase lasting 6 nights at JSTC Evjemoen 2. An expedition phase lasting 5 nights on the Hardanger to reenact the epic journey undertaken by Grouse members. (Including using some of the original sabotage huts used by Op Grouse) 3. A reenactment of the attack route taken by Operation Gunnerside on reaching their goal at Vemork.
Copy right: Tomas Adam/Brian Desmond *****************
**
Note: It is also possible to carry out a shorter version if participants are winter/ski trained.
The expedition is specifically made to cater for those interested in war history, that have an adventurous spirit, that also want to test themselves in a challenging winter environment, learn many new skills and lastly, who wanted something a lot more challenging than a sedate Battlefield tour.  In cooperation with Rays company Woodlore Ltd JSTC Evjemoen has successfully carried out 10 Heroes of Telemark expeditions since 2004. The centre also carries out a similar expedition with British military units (Including Special Forces) and is a level 3 expedition allowing grants to be given. JSTC Evjemoen also cooperates with an expedition company in Brisbane Australia with more weight on the military aspect of the various operations involved. Since 2004 JSTC has successfully carried out 25 Heroes of Telemark expeditions.
How to go about taking part in this expedition;
For all UK/European based residents/companies/organizations please contact Woodlore ltd (www.raymears.com) for further information connected to the Heroes of Telemark Battlefield tour. For military units/organizations/charities of all NATO countries contact JSTC Evjemoen direct. For private/organizations outside Europe who wish more information about our winter, or summer Heroes of Telemark battlefield tours contact us direct at the following email address; briandes@frisurf.no
For further information about the various operations connected to this famous sabotage act in Telemark Norway go to Wikipedia.
Personal background
In 1974, as part of a 110 strong contingent of British Royal Marines, (Green Beret) I met 2 of the original Gunnerside Operation at Kvitavatn Fjellstue in Rjukan. Claus Helberg and Jens Anton Paulsson gave an informal talk about the operation and afterwards we had the opportunity to meet them and get a firsthand account of what happened; an amazing experience!
24 years later, (1998) I again met Claus Helberg in Evje (Where JSTC Evjemoen is situated) and began a serious of discussions about working together on running Battlefield/war history tours to Norway from the UK. From 1999 to 2002 Claus and I worked together giving many foreign tourists from several European countries (Including Canada) the possibility to relive this operation with one of those who actually took part; a memorable time not to be forgotten.
In 2002, one of the world's leading media companies (BBC) contacted me and asked if he could assist them with regards to a war history documentary. Ray Mears is probably the world's leading authority on Survival/Bushcraft. He has numerous programs shown weekly on BBC, Discovery channel, National Geographic and he wanted to tell the true story about the operations surrounding the allies attempts to destroy Nazi Germanys stocks of Heavy water. The idea was to show graphically, and reenact what actually happened. (In contrast to the Hollywood film in 1965) He wanted to show the saboteurs ability to survive under the harshest conditions imaginable and which ultimately led to the success in delaying the production of Heavy water at Vemork.
I worked on the project for over a year, as the fixer. It was probably the most demanding/stressful, rewarding project I have ever been involved in. The documentary was a great success, seen by over 100 million people worldwide in over 100 countries. It was a privilege to work with Ray, a brilliant director Martin Pailthorpe,  some of the world's top TV technicians (camera crew) and be part of a team that at last, told the true story behind this amazing period of Norway's and European war history.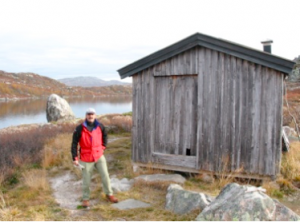 BBC TV s The Real Heroes of Telemark
Fixer Brian Desmond at
Svensbu hytte Hardanger vidda